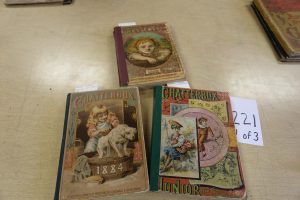 For Immediate Release: Eaton Hudson Contracted to Sell Rare and Old Book
Collection Of Holy Family College Invaluable.com On-Line Sale Ends December 21st.
 https://www.invaluable.com/catalog/obfb6pzbhv
 For more information contact:
Steven Weintz, Managing Director, Eaton Hudson, sweintz@eatonhudson.com, (843) 822-7664
November 30, Manitowoc, Wisconsin. Eaton Hudson announced it has been contracted to conduct an online sale of an extensive rare and old book collection owned by Holy Family College.
Barton Hyte, EVP of Eaton Hudson stated, "this is a great opportunity for anyone to own a piece of history." The collection contains over 600 books some dating back to 1492 with numerous first editions and collectibles from the 1500's, 1600's, 1700's, 1800's and 1900's. There are also signed Gwendolyn Brooks first editions. The online sale is taking place now through December 21st on Invaluble.com."
In 2020 The Franciscan Sisters of Christian Charity Sponsored Ministries announced that Holy Family College would cease operations. Eaton Hudson was then contracted to sell all fixed assets of the College including classroom furniture, departmental items, labs, IT equipment and office furniture.
Eaton Hudson specializes in asset disposition (both fixed assets and real estate) for colleges, universities, technical schools, and other educational institutions. The Company also provides experienced, hands-on management to help young, mature, and distressed retail businesses manage their retail inventory, assets, and real estate expansion strategies.
Launched by industry veterans of the Eaton Department Stores of Toronto and Hudson Capital Partners, clients benefit from the Company's financial strength and expertise. Jim. Schaye, CEO commented: "We know how to partner with retailers, financial sponsors, strategic buyers, managers, lenders and advisors to develop creative and transparent structures that align interests, enhance liquidity and create positive outcomes."
Eaton Hudson has been providing innovative and strategic solutions for the disposition of excess, obsolete and discontinued inventory, and other assets for nearly fifteen years. The Company is headquartered in Boston, Massachusetts with offices in Charleston, South Carolina and Toronto, Canada. www.eatonhudson.com
-End-